MEAL PREP
Sunday rolls around and I've crafted what I think is the most organized to-do list. I then give myself an award-worthy pep-talk in the shower/mirror ... so why am I still concerned about accomplishing everything? How do I juggle working out, a social life, self-care (I personally *cherish* my me-time), family, and planning things in advance?
What I've realized is that whenever I'm overwhelmed, the best thing I can do is just get started; even if I'm not completely confident I will achieve everything, at least I'm moving in the right direction. I appreciate ambition but is it realistic to believe we will always complete everything on our list? These concepts seem obvious, but I find it extremely relatable when people say "ugh, I wish I had the time to meal prep - it's such a great way to save money & it's so healthy!"
...you're right, it is! It's also fun & really relaxing.
It's not about having time - it's about making time! Learning to let go of ~Sunday scaries~ and embrace prioritizing *OMG, MYSELF!* has been such a game changer. Overall, I'm starting my weeks with better vibes, and I'm so happy to share with you recipes I've learned along the way.
Let's Get Started!
Here are some fun ways to prepare different dishes: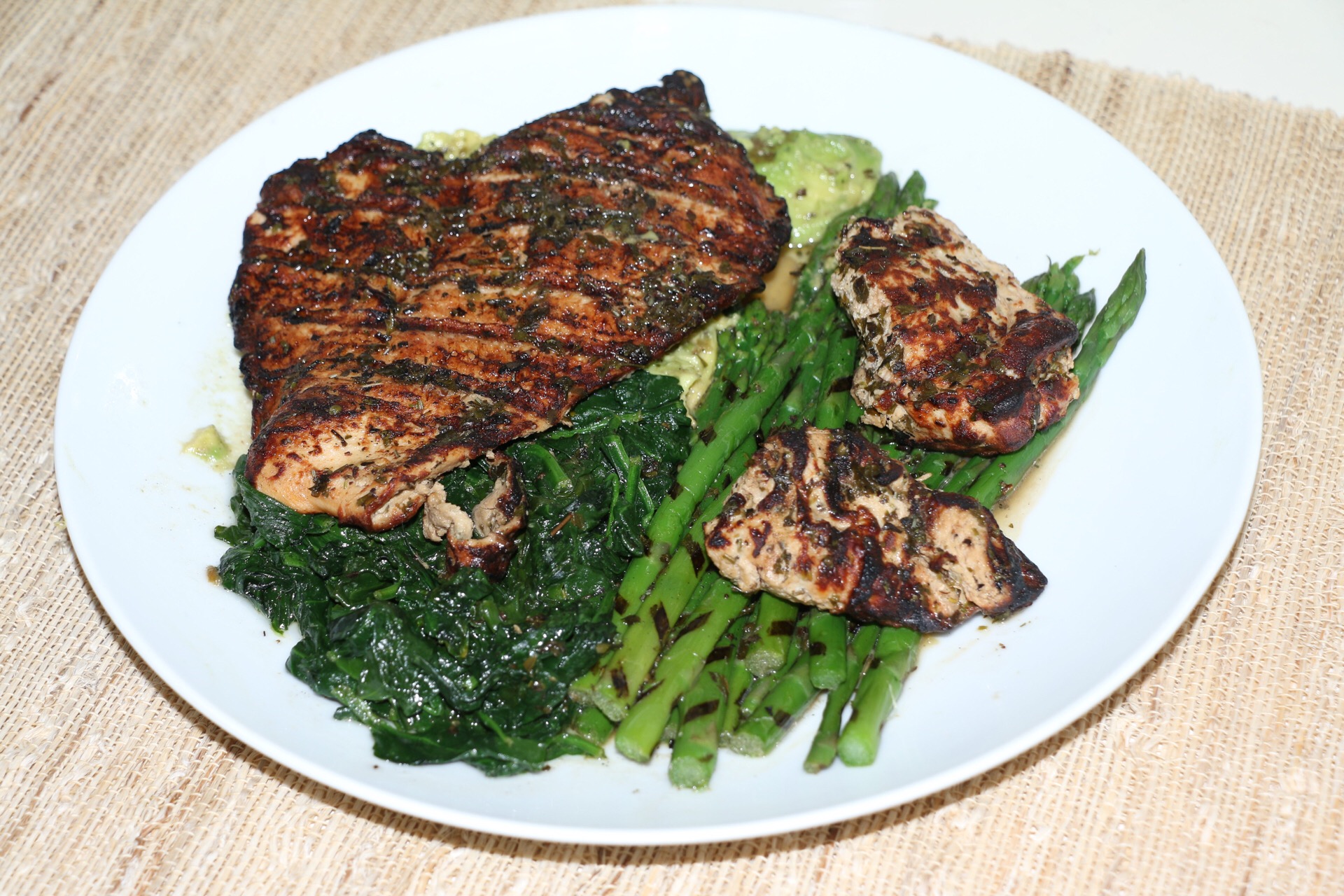 ... because we all start somewhere
Balsamic Vinegar & Rosemary Grilled Chicken with Vegetables
Asparagus:
1. Preheat oven to 425 degrees F.
2. Line a baking sheet with foil or a silpat. Lay out the asparagus on top.
3. Drizzle the olive oil and sprinkle salt and pepper on top.
4. Bake for 15-20 minutes.

Spinach:
1. In a very large pot or Dutch oven, heat the olive oil and saute the garlic over medium heat for about 1 minute, but not until it's browned.
2. Add all the spinach, the salt, and pepper to the pot.
3.Toss it with the garlic and oil, cover the pot, and cook it for 2 minutes.
Chicken:
Heat & Serve
Chicken & Vegetable Salad
INGREDIENTS & INSTRUCTIONS:
+ 1 head of Lettuce
1. Chop

+ Quinoa
2. To cook quinoa, use a 2:1 ratio, or two cups of water for every 1 cup of dry quinoa
Bring water to boil, then add quinoa. For added flavor, use flavored broth in place of water.

+ One can Hearts of Palm
3. Chop
+ One can of Chick Peas
4. Combine all of these ingredients into a bowl
+ Cucumbers
5. Chop & add into salad
+ Chicken
6. Prepare chicken to your preference. My preference is to buy it already prepared in the fresh section of the market.
7. Add chicken to salad
+ Cheese
8. Add whatever cheese you love! I love all cheeses. Or omit this last step out if you don't need the added dairy.
ENJOY!